Apple Butter
This recipe makes a large amount of apple butter. When I made it it filled about 7 (1/2 pint) jars.
12 medium apples
1 cup apple cider
1 cup sugar
1/2 tsp nutmeg
1/2 tsp cloves
1 tsp cinnamon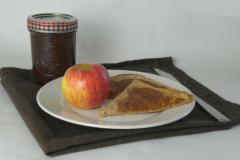 Peel, core and slice apples.
Place apples and apple cider in crockpot. Cook on low for about 7 hours.
Add sugar and spices and continue to cook on low for about 1 more hour.
Published: Monday, November 7th, 2011 by Kelly